News Item: ERA Downgrades Rental Market Forecasts
The European Rental Association has downgraded its forecasts for the rental market in 2022-23 as a result economic headwinds, including the war in Ukraine which it said "had a deep impact on everything."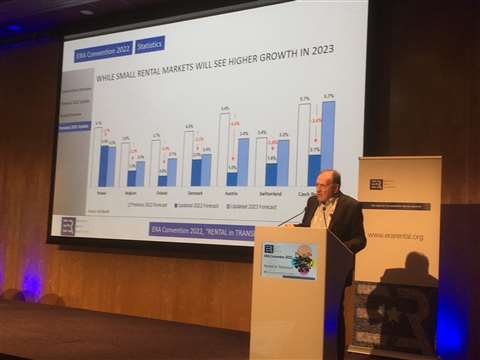 ERA's Michel Petitjean speaking at the association's Riga convention
The ERA's Secretary General, Michel Petitjean, speaking in Riga, Latvia on the second day of the association's annual convention, said rising commodity prices, disrupted supply chains from China and higher inflation would combine to cut construction growth in the region this year from 3.5% to 1.5%
The knock-on impact on rental will be significant, despite the fact that rental is expected to outperform construction.
ERA made its previous forecasts in November 2021, but these have now been significantly reduced. The UK is expected to grow by 2.8% this year, down from the previous forecast of 6.0%, while Germany's growth has been downshifted from 7.0% to 2.1%.
France moves from 5.2% to 4.0% growthin 2022; Sweden from 2.9% to 1.6% and Italy from 8.3% to 3.4%. The growth forecast for Spain more than halves to 3.4% and the Netherlands from 2.9% to 1.5%.
ERA and its research partner IHS Markit are now forecasting modest growth rates also for 2023, typically in the 1.5% to 4.0% range. The UK, Sweden, Italy, Spain and the Netherlands are all expected to grow by between 1.9 and 2.5%., while Germany (+6.0%) and Norway (+3.9%) are likely to perform better.
Among the smaller countries, Poland, Austria, Switzerland and the Czech Republic are all expected to exceed 3.0% growth, led by Czech Republic with a 5.7% expansion.
Petitjean said the changes to the forecasts were "not a change to the trend [since November 2021], but a change in paradigm, because we do not live in the same world."
The ERA also makes estimates for rental company capital expenditure, but Petitjean said it was too soon to make forecasts for 2022 and 2023.
More than 340 delegates attended the convention in Latvia.
Source: International Rental News
---
Published: 23-06-2022